Structuring Health Records with Interoperable FHIR® Data from HL7 and CDA / CCD
By Justin Kaltenbach
Founder, Outcome Healthcare
Integrate HL7, CDA / CCD, and other healthcare data with HL7 FHIR®
Sharing health information is imperative to patient safety, compliance, and workflow efficiency. Organizations may have differing needs for their data, or data may reside in different states that need to be shared within and outside the organization. This has driven the ability to integrate HL7, CDA / CCD (Clinical Document Architecture and HL7 Continuity of Care Documents), and other healthcare data with HL7 FHIR® (fast healthcare interoperability resources).
Outcome Healthcare enables organizations to convert and migrate their CDA/CCD and HL7 data to/from FHIR® with simple-to-use APIs.  Our infrastructure is designed for organizations seeking to transition with speed and reliability while scaling to process conversions in the millions.
Migrating data doesn't have to be complicated, and we invite you to visit our free-to-use site to see a demonstration of FHIR conversion technology capabilities at https://fhirintegrationsolutions.com/.  This site allows you to load sample HL7 or CCD messages and convert them to FHIR seamlessly.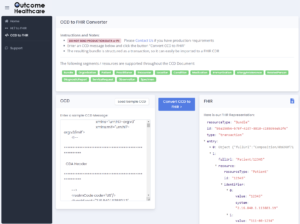 Figure 1. Example of a CCD document converting to a FHIR® document.
FHIR® is today's standard, offering access to structured healthcare data via a RESTful API (using XML & JSON) and enabling the exchange of complete patient records. CDA/CCD also allows the full exchange of medical records but not with the same ease of structure. A patient's complete medical history may be in an XML document, but ingestion requires parsing.
Move to the Future of Healthcare
Both FHIR and C-CDA standards have a history in healthcare usage, and their codification is considered a marker of good practice. However, it's important to note that new standards are developed as our technology and knowledge are enhanced, and we can make use of the learnings from CDA's uptake in 2011 and following requirements by 2014.
FHIR is newer, but its release in 2019 has given the industry and subject matter experts such as Outcome Healthcare time to develop solutions that make the conversion seamless for the deadline in 2022.  You can try them yourself in this online demo presenting more information on interoperability APIs for CDA to FHIR.
Ready Your Team for FHIR® Migrations
Prepare today, as FHIR is more widely adopted.  FHIR will benefit the industry with the ability to create large bundles of patient data. FHIR has additional API elements that allow for unbundling of patient data.
Trusted. Simple. Highly Performant. Outcome Healthcare provides trusted HIE and standards migration technology and services that enable the secure transfer of health information and are easy to install. Our solutions deploy and manage data better to deliver up to 50% faster processing times than previous solutions.
Talk to Outcome Healthcare today about your Health Information Exchange conversion to FHIR® and how to ensure the most significant value from your IT time and resource investments.  [email protected].